Titan Minerals are a Perth based gold producer, with major interests in Ecuador and Peru. Titan were previously called Minera Gold, which went into administration in August 2015. Titan Minerals successfully completed a takeover of Canadian firm Core Gold in 2020, allowing Titan control of Core Gold's Ecuadorian assets.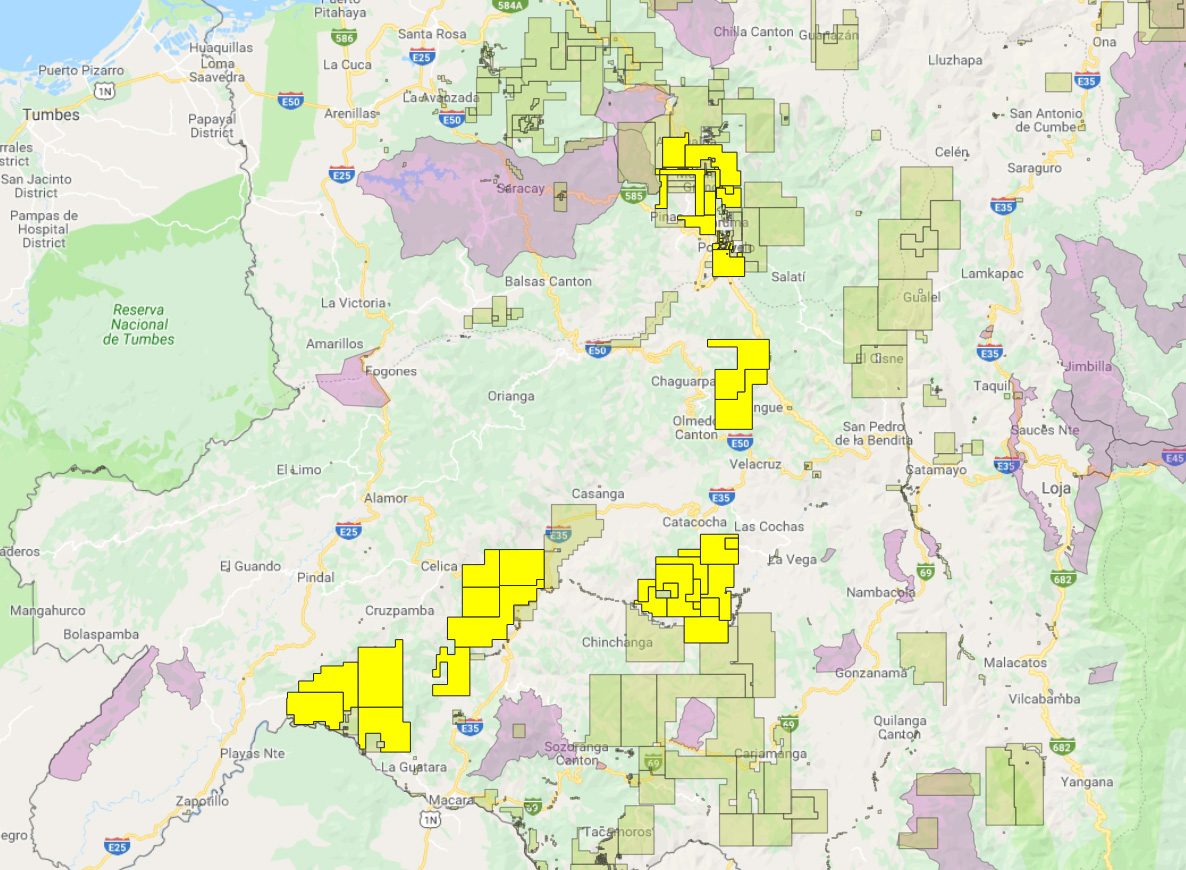 Core Gold Titan "Merger"
During 2018-2020 Titan was involved in an acrimonious "merger" with Canadian company Core Gold. Titan's targets were Core Gold's three mining production areas located in southern Ecuador (particularly the Dynasty Gold Project with an inferred resource of 1.1 million ounces) and the Zaruma Gold Mine and Portovelo Mill Project, where 750 tonnes per day or 3.2 g/t gold is processed.  The Zaruma Gold mine (on stand by), produced more than 70,000 ounces of gold and 150,000 ounces of silver.
The Canadian Supreme Court threw out the take over in July 2019, on the grounds that the terms were not fair or reasonable. The water was further muddied, with regards to the activation of a criminal investigation into a Titan subsidiary in Peru, Andina.
The takeover was further complicated when the AU$30/US$21 billion Chinese miner, Zhaojin Mining, also made a play for the Dynasty asset. Titan finally successfully closed the AU$80/US$60 million takeover deal in January 2020. Core Gold was delisted from the Toronto Stock Exchange in May 2020. Titan employed Bacchus Capital Advisers to respond to expressions of interests in Core Gold assets that were being reviewed by Titan.
Current Directors
Mr Michael Hardy Non-Executive Chairman:  Partner of Robinson Cox (subsequently Clayton Utz) from 1983 to 2002 before establishing the firm Hardy Bowen in 2002. Former director and chair of Fleetwood Corporation Limited.
Mr Laurence Marsland Managing Director: Ex Minproc Limited in Australia and the USA, Presently a director of Toro Gold Limited.  Ex (now insolvent) Laguna Gold Company where he was the Chief Executive Officer, President and a director. Ex Vice President and Chief Operating Officer of Dundee Precious Metals Inc.  According to this article,  Dundee Precious Metals has a complicated corporate structure, with three off-shore companies in "paradise entities" enabling it to  avoid environmental regulation or accountability, and pay little to no tax.
Matthew Carr Executive Director: Founder of Urban Capital Group and non -Executive Director of Andina Resources Ltd.
Nick Rowley Non-Executive Director: Currently serves as Non Executive Director of Cobalt One Ltd (ASX:CO1) and as Director of Corporate Development for Galaxy Resources Ltd.
Zane Lewis Company Secretary: Non-Executive Director of ASX listed companies: Digimatic Limited, Kingsland Global and Company Secretary at ASX listed companies Lion Energy Limited, Cre8tek Limited.
Travis Schwertfeger; ex Newmont Mining Corporation.  Currently a non-executive Director of Alicanto Minerals Ltd.
Titan Minerals in Ecuador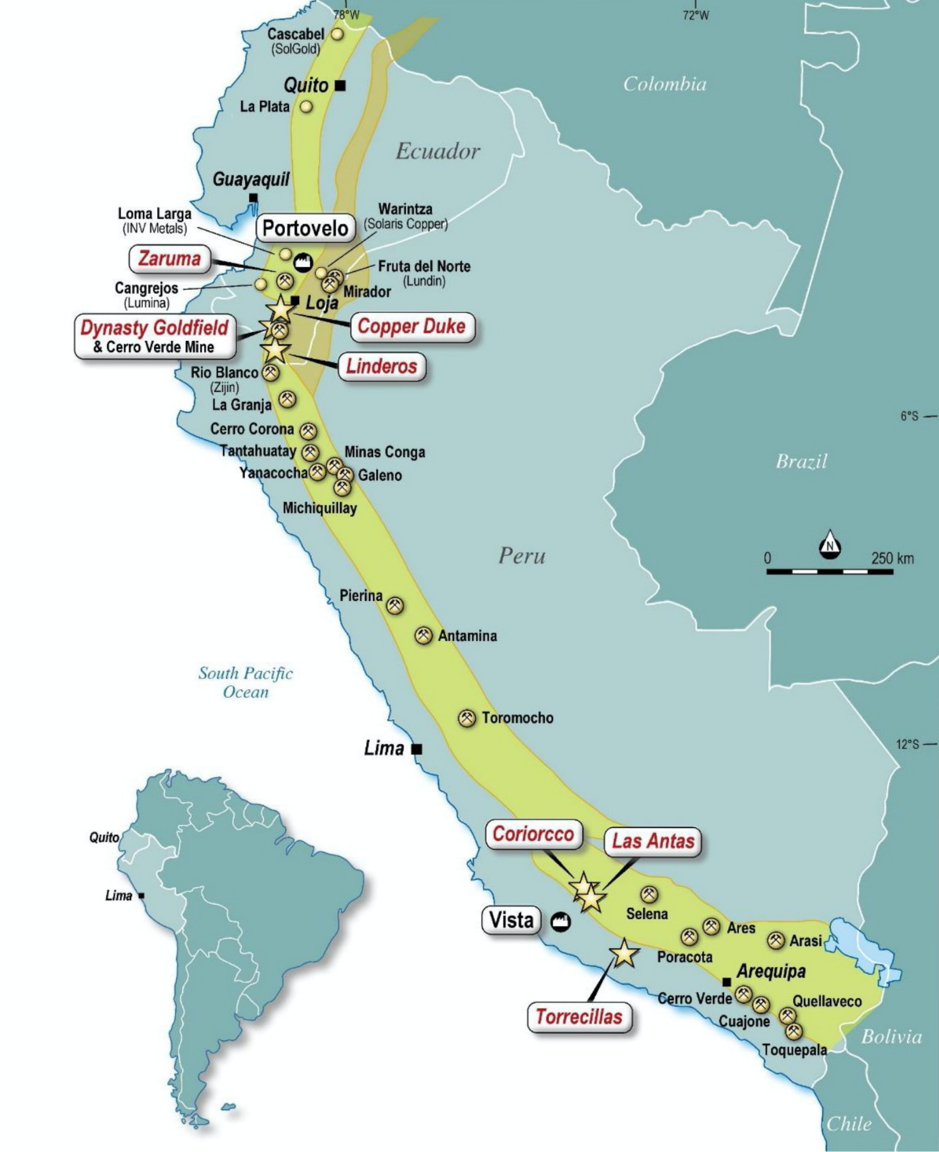 Portovelo Mill and Processing Plant (100% owned) 
Formerly known as the "Zaruma Mill", Portovelo hosts a conventional crush, mill, leach, Carbon-in-Pulp ("CIP"), elution and electrowinning circuit. Portovelo has a nameplate capacity of 2,000 tpd. Portovelo is the largest permitted operating CIP plant in Ecuador and successfully treated up to 260,000 tonnes per annum from Dynasty Gold Project.
Dynasty Gold Project (100% owned. Flagship asset)
Currently operating as a small scale open mining operation and was the first fully permitted open pit gold mine in Ecuador. Dynasty consists of five concessions totalling 139km2 located in the Loja Province in the south of Ecuador.  A campaign consisting of 12,000m drilling in a 6 month exploration programme is currently planned. Permits have been granted. ~260,000 tonnes of rock is mined and trucked to Portovelo  per annum.
Copper Duke Project(100% owned. Flagship asset)
130km2 tenement position in southern Ecuador. Located 5km south of city of Catacocha. Drill-ready targets. High resolution magnetic and geochemical surveys are planned to commence in the third quarter of 2020, 5 exploration targets have been identified. Discovered in 1968 by a United Nations Survey. In 2007 Goldcorp purchased Copper Duke. Titan took over Copper Duke in 2020.
Linderos Project (100% owned. Flagship asset).
Located 45km southwest of Dynasty Goldfield project. 143km2 of land position with a high-grade gold discovery. In 2017, Core Gold embarked on a trenching campaign, followed in 2018 with a maiden drilling campaign. Core Gold announced the "positive" results.
Zaruma Gold Project (100% owned)
The Zaruma project is a legacy high-grade gold project in southern Ecuador, 3km from the town of Zaruma. The Zaruma project is currently on care and maintenance as Titan evaluates strategic alternatives for the asset. Zaruma initially commenced commercial production in 2013 and ceased production in 2016 producing over 70,000 ounces of gold averaging >8g/t Au and 150,000 ounces silver.  The existing underground 5m x 5m decline portal is located 7.5km from the Portovelo mill and processing plant. The mill is currently on stand by and has a mine life estimated to be 15 years.
Tulin Gold Mining and Vista Gold Mining Plants
Titan Minerals own the Tulin Gold Mining Plant in southern Peru. Tulin is a centralised processing plant that produces loaded carbon from a CIP gold circuit, with feed previously averaging 17 to 24g/t gold head grades sourced from licensed third-party operators.
Titan Minerals also own the Vista Gold Plant in near the town of Nazca in Southern Peru. Vista was purchased from Andina Resources in July 2018. Acceleration of increasing the size of the plant sped up in the second half of 2018 following the acquisition of Andina Resources Ltd. The plant had a nameplate capacity of 150 tonnes per day, generating up to 90oz of gold per day. Vista consists of a conventional crush, mill, leach, Carbon-in-Pulp circuit. Titan initially acquired and processed material sourced from artisanal miners in the region and then started processing material from larger suppliers when environmental permits were approved in January 2019 so that capacity now reaches 350 tons per day. Vista intend to be supplied by mining the 100km long Nazca-Ocana metallogenic belt.
Coriorcco Gold Project
The Coriorcco Gold Project is located in the Lucana Province - Ayacucho region and consists of  two mining concessions totalling 2000ha in size. Titan has a 100% interest subject to a cession 10 year agreement with previous owner. 2000ha two mining concessions
Los Antos Gold Project
According to Titan, the Los Antos Gold Project has exploration potential and is located within trucking distance from both the Tulin and Vista Gold Processing Plants. Titan entered into a non-binding agreement in September 2018 for an ownership interest of 85% and will allow Titan towards accessing substantial amounts of land and generating multiple options to feed ore into the Vista gold plant.
Torrecillos Gold Project
Torrecillos is another exploration site 100% owned by Titan Minerals. Another asset acquired by Titan after its takeover of Andina Resources.
Mirador Copper and Gold Processing Plant (deal cancelled )
In April 2018 Titan entered into a binding heads of agreement to acquire the Mirador Copper and Gold processing plant, located 450km north of Lima, along with six wholly owned mineral concessions located in a prospective area. The Mirador plant processed over 4000 tonnes per month. The deal however, was cancelled in September 2018.
Legal Controversy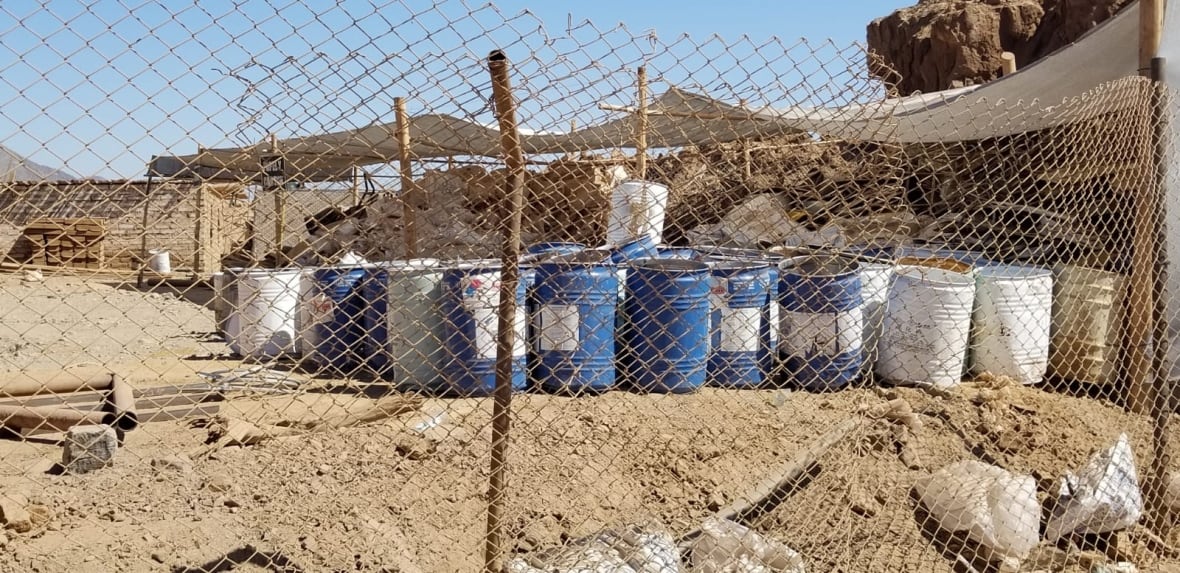 In the midst of the Core Gold take over in 2018, media reports began surfacing about Titan Minerals Environmental record in Peru, or more specifically the burying of cyanide bearing tailings in the middle of the night outside the Tulin gold mining plant.  Environmental costs associated with the dumping appeared to amount to millions of dollars. Fines supposedly had also been paid by Andina since 2012, according to the source of leaks, a disgruntled major Core Gold shareholder.
According to the leaker: "Importantly, there was a clear link between the two companies: Andina directors Matthew Carr and Timothy Neesham held close to 2.5 million shares in Titan, while three Titan directors held shares in Andina; Matthew Carr was also executive director of both companies. Reports from Peru indicate that Titan's Tulin Plant was marred with environmental violations as recently as 2018 and dating back to 2012."
Issues regarding Andina also  included: "deposits of cyanide bearing tailings outside the permitted area, an incident involving a spill of "caustic soda used in activated carbon" which reached an archaeological zone. In connection with this incident, the DREM report stated: "It is worth mentioning that in the path of the spill there are Nazca lines and geoglyphs and that there are no documents in which the Ministry of Culture is informed of what happened… tailings pads were located beyond the permitted area (by 40% in the case of tailings pad No. 2 and 5% for tailings pad No. 1) and that approximately 10 thousand bricks were manufactured using the cyanide-bearing tailings possibly mixed with cement and lime--potentially putting its workers' health at serious risk. These bricks had been used at the Tulin plant for the construction of warehouses, cyanide deposit, solid waste, industrial, and a scrap deposit."
More issues apparently included: "news reports of shooting incident at the Tulin plant allegedly involving individuals related to Titan that left two people wounded…. and on December 14, 2018, a demonstration took place at the plant where the crowd threw stones and broke through a perimeter fence… December 20, 2018, a more serious incident took place where several dozen individuals, many armed, approached the plant but were unable to proceed further due to the presence of the security guards at their posts inside the plant. Two assailants were wounded by gunfire and many were arrested. Local media reported on the incident and presented the owner's views on the incident."
*Shocking Revelations surface about Titan Mineral's Environmental Record in Peru, Business Wire, May 20, 2019