MEDIA RELEASES
MELBOURNE RAINFOREST ACTION GROUP
Gina Rinehart's Mining Concession Problems in Ecuador
January 4, 2019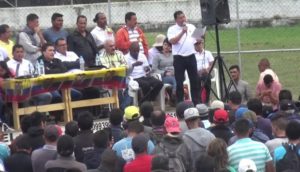 Hanrine Ecuadorian Exploration and Mining (HEEM), a subsidiary of Gina Rinehart's Hancock Prospecting has been involved in a political minefield in Ecuador for the past year.
In mid December 2018, hundreds of members of the Ecuadorian Military were trucked into the town of Buenos Aires, in the northern Imbabura Province in an attempt to curtail illegal mining activities. The military and police have been active in the region over the past year.
In late 2017, thousands of illegal miners descended into the region after the discovery of gold, with local reports stating up to 12,000 miners from as many as 10 countries rapidly mobilised into the area.
Much of the activity of the "informal" miners has centred around a community now known as El Triunfo (the Triumph), which is located 3km inside in a mining concession, controlled by HEEM.
The concession was granted by the Ecuadorian Government in early 2018, but local miners dispute the way the concession was processed and handled and are contesting its legality. Some are claiming that the concession process was flawed and that the concessions should have been granted to Ecuadorians, rather than an overseas Australian mining company.
There now appears to be a power struggle emerging between the miners on how to manage a situation which is increasingly becoming fraught. Negotiations between HEEM and the miners appear to be polarising mining groups against each other, only adding to the tensions.
There were two murders on the gold fields during the year, and hundreds of miners have been arrested. Prostitution and drug trafficking are becoming established in local towns. Truckloads of mining materials were also been confiscated. Other concerns regarding illegal mining can include: human trafficking, money laundering, arms trafficking, explosives trafficking, blackmail and influence peddling.
El Triunfo, is located only a few kilometres south of the highly anticipated Cascabel project, overseen by another Australian company - Solgold.
"In effect, any concession holders within the country could suffer outcome to that of El Triunfo," says member of the Rainforest Action Group, Anthony Amis. "If gold is discovered by prospectors, literally thousands of desperate miners could descend on the concession in a very short amount of time. The gold rush at El Triunfo was spread electronically and through social media in a matter of weeks".
"We are concerned how these situations will be managed by Australian companies, who control hundreds of thousands of hectares of land in mining concessions throughout Ecuador" Mr Amis said. "Many questions remain regarding how Hanrine have managed and dealt with the problems of thousands of informal miners inside their concession. Most of the informal miners are very poor and have come to the region to work, many are honest and desperate." Mr Amis concluded.
FOR MORE INFORMATION, CONTACT ANTHONY AMIS on 0425 841 564
BHP Electric Car Greenwash Does Not Exonerate Company From Human Rights and Environmental Abuse
December 17, 2018
Melbourne Rainforest Action Group (MRAG) today released a report detailing the activities of BHP Billiton in South America. The report highlights the company's poor environmental and social record in a number of locations.
Of particular concern is that BHP is now promoting itself as being environmentally responsible by promoting the use of its mining materials, particularly copper in electric cars.
"MRAG has particular concerns about BHP's intended entry into Ecuador, a country with minimal experiences in dealing with mining companies. BHP has recently purchased a stake in exploration company Solgold who hope to develop the Cascabel mine in the north of Ecuador. The copper at Cascabel is being promoted under the guise that it will be required for electric cars, yet the bulk of world's copper demand is predicted to go into energy infrastructure, not electric cars" said spokesperson Anthony Amis.
BHP has also been alarming people because of their exploration activities in the Intag Valley Ecuador, a region where the company has mining concessions.
MRAG has documented a litany of environmental problems caused by BHP operations across South America, including the infamous 2015 Samarco mine disaster in Brazil which killed 19 people.
Perhaps of even greater concern is BHP's history in Colombia, particularly at its coal mine at Cerrejon and its divested Cerro Matoso nickel mine. Both operations have had devastating effects on people living the near mine sites. Horrific violence has been inflicted against community members in both regions, with 30 leaders have killed near Cerro Matoso. How has BHP managed to operate in these locations with little difficulty when armed groups operate in these regions?
The Colombian problem also now appears to be spilling over into Ecuador. A director of the Australian mining company operating on the border, Rio Dorado was quoted in the Sydney Morning Herald on December 7, "well, if we have anybody enter the site what we should be doing is shooting and asking questions after the event,"
"The Colombian/Ecuadorian border is classified by the Australian Department of Foreign Affairs as a Do Not Travel Zone due to the very high level of risk, yet the Cascabel mine site is only 10km away from this zone, and anything transported from the mine will have to travel 30-40km through the no go zone. Why would you want to build a mine in or near this region, unless you were sure that you could pay for protection your asset" Mr Amis concluded.
FOR MORE INFORMATION, CONTACT ANTHONY AMIS on 0425 841 564 or Liz Downes 0425 308 041
A Copy of the report can be found at the following link
Mining disaster possible in Ecuador?
September 10, 2018
News reports on the 5th of September that mining company BHP has purchased a 6.1% stake in exploration company Solgold for $35m have raised concerns that another mining disaster in northern Ecuador could be possible if Solgold's Cascabel gold/copper mine is eventually constructed. Environmentalists fear that a repeat of the BHP's /Samarco tailings dam collapse in November 2015 (Brazils worst environmental disaster) could be repeated in Ecuador. BHP appears to be in a tussle with Australian miner Newcrest over eventual control of Cascabel.
"Ecuador is a known earthquake hotspot, with Cascabel just west of a cluster of known quakes on the western side of the Andes. In the rush to get a mine and tailings dam built, shortcuts could be taken?" said MRAG spokesperson Anthony Amis.  "If a tailings dam is not constructed, tailings could be dumped directly into rivers or even piped into the ocean, a practice which is used in another geologically unstable region, Papua New Guinea where both Newcrest and BHP are involved."
Even in supposedly developed countries such as Australia, tailings dam walls can fail. Newcrest's Cadia Mine in New South Wales was shut down 3 months in 2017 due to an earthquake and the tailings dam wall at Cadia failed in March 2018. Earthquakes recorded near Cascabel exploration area average higher magnitudes that than those recorded at Cadia. Potential pollution from any problems at Cascabel will mainly impact on the Rio Mira river which stretches through Ecuador and into Colombia. Colombians have already feeling the full brunt of BHP's activities with communites near Cerro Matoso ferronickel mine suffering health problems for many years. Another potential issue is that Solgold will have to consult with impacted communities, which is required by the Ecuadorian constitution. In June 2018, an Ecuadorean Court shut down mining by a Chinese company Junefield/Ecuagoldmining South America for failure to consult with communities.
Solgold have a history of discovering resources which later were sold off to leave others to deal with environmental consequences. Coal seam gas in Surat Basin Queensland and the opening up of coal mining in the Queensland's Galilee Basin are two examples.
MRAG also have concerns regarding Newcrest's involvement in the Fruta del Norte gold mine in the south east of Ecuador, located near the border with Peru.
FOR MORE INFORMATION, CONTACT ANTHONY AMIS on 0425 841 564
Senator Lee Rhiannon questions AUSTRADE on the involvement of Australian companies in mining protected rainforest reserves and indigenous reserves in Ecuador.