MEDIA RELEASES
MELBOURNE RAINFOREST ACTION GROUP
11 October 2019
200 protestors at the head office at BHP today blocked entries to doors this morning amid demands for BHP to take greater accountability of its mining operations globally.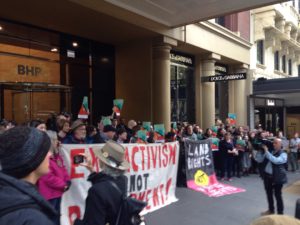 The protest comes as Ecuador goes into a state of emergency with hundreds injured and at least 5 killed in one of the most serious uprisings Ecuador has seen in recent years. The unrest arose from resistance to IMF-mandated austerity measures that also allow greater freedom for foreign interests operating in the country, making mining companies such as BHP complicit in the use of military force to protect their business interests.
"Protesters were informed about recent uprisings in Ecuador at the rally. Many were shocked to hear about the violence being perpetrated on the Ecuadorean people by the state. Many in the crowd were also shocked about the extent of mining interests in Ecuador by Australian companies. Of particular concern was the activities of BHP in the Intag Valley and their investments in SolGold," Melbourne Rainforest Action Group member, Anthony Amis.
The blockade was targeted as a "dress rehearsal" to a week of blockades planned at the International Mining and Resources Conference (IMARC) from 28 October.
Members from a number of groups including the ExtinctionRebellion, Lasnet Solidarity, Blockade IMARC, and the Melbourne Rainforest Action Group joined the demonstration.
BHP has seven concessions in Ecuador – many of these on Protected Forests and Indigenous territories, as well a Joint Venture in Indigenous territory Tarquí which has been hotly contested. In June, a provincial court in Imbabura revoked the environmental license for ENAMI/Cornerstone and BHP to conduct explorations on their concessions in these areas, barring them entry, however BHP employees continue to illegally conduct exploration in these areas.
The current uprising in Ecuador is led by Indigenous organisation CONAIE which denounced the government and corporate interests in a statement today, saying:
"The business class, who has sold the country and is pro-imperialist, wants to secure the funds from the IMF for their own debt, their crisis. We the working classes, Indigenous peoples and the popular sectors, are paying [for their crisis]. This struggle isn't for today, nor is it only for the price of gasoline. It is to prevent them from auctioning off our future. What we are unsuccessful of stopping today, two or three generations of us will be forced to pay with hunger and poverty."
CONAIE ECUADOR
To our bases and the Ecuadorian Peoples
(Original statement in Spanish attached, Espanol adjuntado)
(Quito, October 10, 2019) We have seen days filled with agitation. We have been surprised by our own capacity to fight and resist, and we have demonstrated to the world that the Indigenous movement and the Ecuadorian peoples are one single force, and, from the place that history has granted us, we have made the power tremble. We have stated our position: this does not end until the IMF leaves Ecuador. 
Like all governments who have been debilitated and delegitimized, the only response that Lenin Moreno has given is violence and repression. [the government] Has treated the people as its enemy, without a shred of respect to the simplest norms of respect for human rights. They did not respect the zones of humanitarian protection, instead throwing tear gas bombs towards our children and our elders. They prevented us from creating humanitarian pathways so that the injured could reach hospitals. And, they have massacred our fallen brothers with bullets to their bodies, impacts of gas cannisters, collisions by horses, being beaten and even thrown off of a bridge.  What we are living in this country does not have a name, there is no memory of such atrocious and violent repression in recent history against a people who are reclaiming their rights.
For those who sustain this government so that they feel empowered to throw themselves in a war against the people: the same who are protecting them in Guayaquil. The business class, who has sold the country and is pro-imperialist, who wants to secure the funds from the IMF for their own debt, their crisis. We the working classes, Indigenous peoples and the popular sectors, are paying [for their crisis].
This struggle isn't for today, nor is it only for the price of gasoline. It is to prevent them from auctioning off our future. What we are unsuccessful of stopping today, two or three generations of us will be forced to pay with hunger and poverty.
We have tears of rage but we have learned from our mothers and fathers that those who die in battle are honoured by multiplying them. The dialogue that Lenin Moreno is proposing is a farce. This is why, comrades, we will radicalize our actions. There is no dialogue with this assassin government unless the minimum requirements are met: the exit of Maria Paula Romo and Oswaldo Jarrin from the government and the abolition of Decree 883.
Until then, our homework is to struggle., to rejuvenate our strength and sustain the road blockades and the take-overs of the departmental offices and public buildings, to hold assemblies in all of the communities and to build alliances with all of the sectors of the people.
No one will take the words of the Indigenous movement to speak with this assassin government until these demands are met. The only official voice is the leadership of the CONAIE. It has been said, leaders who do not comply with the mandate of the people will be subjected to popular and indigenous justice.
Not one step back!
IMF Out of Ecuador!
This Strike does not End!
[signed]
For the council of the government
Jaime Vargas
President of CONAIE
[translated from original statement by Kirsten Francescone, MiningWatch Canada] 
Contacts and full media release here.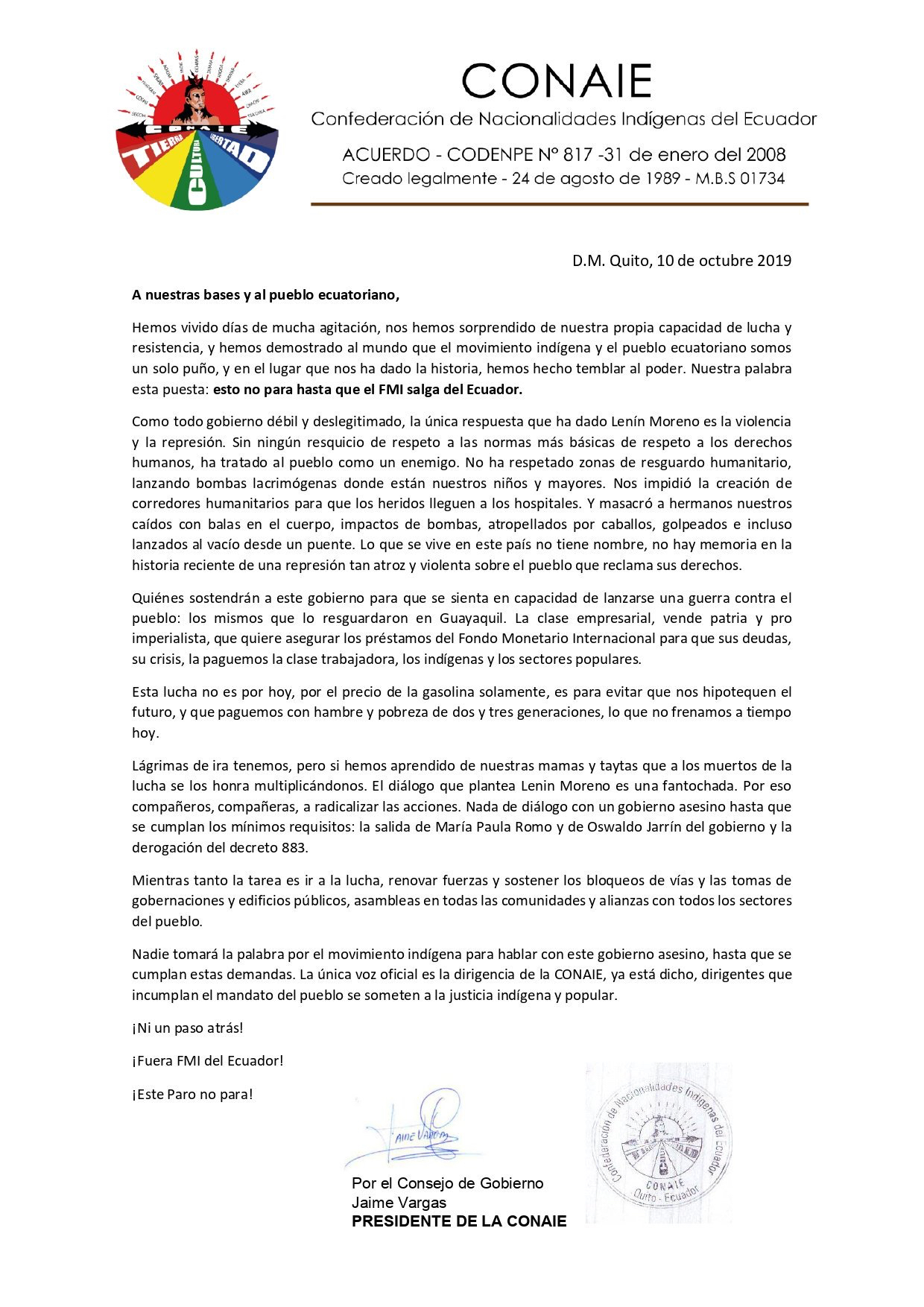 October 8, 2019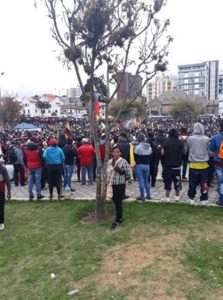 The Rainforest Action Group is deeply concerned about the implications of the State of Emergency declared by Ecuadorian president Lenin Moreno on October 3rd. The action gives police and military the power to use extreme force to repress the widespread mobilisation of the populace occurring throughout Ecuador after the implementation of austerity measures known as the "paquetazo" (package) on October 1.
The US $20 billion fiscal reform package includes axing fuel subsidies – a move that saw diesel prices rise from US$1.03 to $2.30 per gallon, and petrol rise to US$2.39 from $1.85. Public service wages were cut by 20 per cent, and workplace security and job security safeguards removed. Thousands of public-sector employees were also dismissed and education and healthcare spending slashed. The resulting protests have seen hundreds injured and at least one dead, with police shooting unarmed protesters and the government leaving the capital over safety concerns. Hundreds of people have also been arrested.
"The reforms by the Ecuadorian government are part of IMF mandates that seek to open Ecuador further to international investment, and pave the way for widespread copper and gold mining despite resistance from the population. Austerity measures in a country where the level of structural poverty sits at 25.5% and extreme poverty levels of 9.5% is unfathomable. Given the isolated terrain of much of Ecuador, the fuel price rises will see the poorest Ecuadorians and small-scale farmers hit the worst," says Rebekah Hayden.
"The move directly implicates Australian mining companies in the repression of the populace, who overwhelmingly voted last year against mining in Indigenous territories and protected forests in the Amazon and Andes. Despite this, the government continues to move ahead with plans to increase mining concessions, axing taxes so that mining companies can operate with lower overheads, and providing armed forces to ensure the security on the sites of these proposed mines. The IMF loan was provisioned on foreign investment, particularly the strategic mining projects such as SolGold's proposed Cascabel mine which acts as collateral for the loans." Ms Hayden added.
Australian mining companies are leading investment in Ecuador, holding almost 30% of mining concessions across the country, totalling 536,101 hectares in early 2019.
"Australian mining companies like to promote mining as an opportunity to provide jobs and increase local wealth, however these austerity measures by the government indicate that local communities will be far worse off after foreign investment than they were before," Rebekah stated.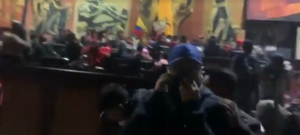 The Confederation of Indigenous Nations of Ecuador (Conaie) released a statement in mid 2018 denouncing the Government's selling of around 2 million hectares of Indigenous territories and protected forests to mining companies, and declaring a unilateral stance against all industrial foreign investment projects, including mining, oil and hydroelectricity, in indigenous lands. Last week, in response to the release of the austerity package, indigenous people apprehended and detained around 50 police and military personnel trying to enter communities in the Andean provinces of Chimborazo and Imbabura. To date, many of those held have not been released. In a statement on 3rd October, Conaie declared: "Military and police who approach indigenous territories will be detained and subjected to indigenous justice.'
Meanwhile, also on 3rd October, protestors burned down a mining camp at Río Blanco in the province of Azuay. Río Blanco, owned by Chinese company Ecuagoldmining, has been for several years a social and political flashpoint. Sustained community resistance against the gold mine resulted in a legal case which in June 2018 forced the project to shut down. However, as part of his swathe of new enforcements following the signing of the IMF deal, President Moreno promised to do whatever it took to re-open Río Blanco.
In recent months there have been a number of other declarations released by communities denouncing moves to mine their land. They say they were not consulted about plans to mine. An assembly in the province of Intag on August 20th was attended by 1500 people, who released a statement giving mining companies, including BHP (five concessions in the area) and Gina Rinehart's Hanrine, two months to withdraw from their communities.
On August 23rd, the Shuar Arutam Indigenous People's government declared itself free of mining, demanding the exit of mining companies which include Australian companies SolGold, Andrew Forrest's Fortescue Metals Group, Newcrest (who part-owns the flagship gold mining project Fruta del Norte) and BHP. More than 50% of Shuar territory is covered with mining concessions, and nearly 100% is concessioned to oil companies. At this moment, Shuar Arutam demonstrators are being harshly treated by the military, being gassed, shot at and beaten.
"Australian companies are naively pushing ahead with mining in communities that do not want them to operate on their land, in an environment that is increasingly fraught, and at a time when global concerns about climate change require deeper scrutiny of any new mines – particularly in such vital forests as the Amazon. Any mining in Ecuador can only go ahead with increasing force against the populace – making Australian companies directly responsible for any fatalities that result." Ms Hayden concluded.
As this is being written, Ecuador is in lockdown due to a nationwide strike and escalating unrest. Citing security fears, the government has temporarily moved from the capital, Quito, to Guayaquil.
Contacts and full media release here.

September 20, 2019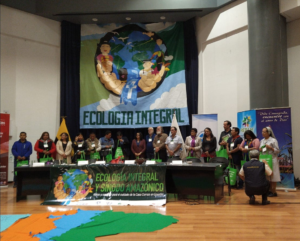 On Sept 14th this year, as the disastrous fires in the Amazon Rainforest continued to hit international headlines, Ecuador's new Holistic Ecology and Panamazon Synod released a bulletin entitled 'Our Mother Earth is Dying.'
This came as a result of a congress of Catholic bishops in Quito, and will serve as a key document informing the much more important gathering of bishops next month at the Vatican, which will announce a new direction for the Catholic Church, towards a 'holistic ecology' rooted in respect for 'our common home'.
The document, inspired by the teachings of the Gospel and on the encyclical Laudato Sí, declares:
"1. Our commitment to continue marching in the struggle and transformation as builders of justice, prophecy, and defence of life and diversity.
2. Our commitment to live on the planet, respect and value it, especially those large, threatened ecosystems: oceans, rivers, forests, highlands, glaciers.
3. Our commitment to insist that authorities of the Amazon basin stop the ecocide, genocide, and ethnocide resulting from the expansion of the agriculture/livestock frontier, extractive activities, and megaprojects.
4. We demand that governments declare a moratorium on all mining concessions and hydroelectric projects.
5. Our commitment, as members of the Catholic Church, is to report to local and international judicial entities violations of Human Rights and the rights of First Peoples, of uncontacted peoples, of campesinos, and of the rights of nature.
6. Our commitment to act, together with collectives and organizations, to promote and defend the Human Rights or all vulnerable groups.
7. Our commitment to continue along this road, listening to and building, with other civil society actors, collectives, and especially with young people, actions in defence of, sensitivity to, positive impact on, and commitment to defending out Common Home, turning our processes of resistance and struggle into ways of defending the rights of life, nature, and peoples.
8. Our commitment to accept and report that the destruction of nature is a capital social sin.
9. Our commitment for an alternative that promotes life, that respects nature at the personal, community, and institutional levels.
10. Our commitment, as academics, to academic proposals that recognize the value of the cultural heritage and the resignification of our major activities of teaching-training, researching, and connecting in order that these activities be oriented to the valuing, defense, and promotion of the care of our Common House.
11. Our commitment to incorporating into the courses of study at all educational levels and in training programs Holistic Ecology based on the Laudato Sí encyclical.
12. Our commitment to continue to recognize, in the dialogue among the fields of knowledge, ancestral cosmovisions and visions, the Kawsak Sacha, the Living Forest.
Ecuador is a country comprising 14 different indigenous nations, which form nearly a third of the total population. The combined political and cultural influence of indigenous peoples helped create, in 2008, one of the world's most progressive constitutions. Ecuador's constitution provides the basis for a law and policy framework called 'Buen Vivir' or ' Living Well', which guarantees the rights of not only all humans, but also nature, to exist and thrive in a state of wellbeing.
In spite of this, a crippling international debt and austerities have forced Ecuador to allow unprecedented amounts of land to be sold to transnational companies for development of oil, hydroelectricity and mining projects. These concessions cover the world's most biodiverse forests, Amazon headwaters, and indigenous lands. Most recently, in 2017, almost 2 million hectares of land was sold for copper and gold mining.
"Almost universally, people living within concessions have not given consent for industrial development in or near their communities. In several cases, communities have been forcibly displaced to make way for companies, and there have been many documented human and nature rights violations," says Liz Downes, member of the Rainforest Action Group.
"The Church's strong stance demanding a moratorium on mining and hydroelectricity comes not only as a result of increasing dissent from communities, calling for their rights to be respected, but because of the severe risks of these projects. Ecuador is highly geologically unstable, has the greatest biodiversity and endemism of species in the world, and supplies much of the water for the rivers which run through the Amazon Basin," says Liz Downes.
Other churches across Latin America have in recent weeks called for immediate and urgent action with respect to the Amazon fires, with the Pope himself declaring the situation as an emergency. The movement is not new, though: in 2014 a Pan-Amazonian Network was publicly launched in Lima, Peru in conjunction with the Climate Summit. It apologised for colonial atrocities in the Amazon and called for a 'church with an Amazonian face' to represent the rights of people and ecosystems, saying: "The exploitation of the Amazon through mining, the expansion of farming and ranching, road construction, hydroelectric dams and timber companies demand that the church take a more prophetic stance".
August 6, 2019
SolGold joins Gina Rinehart's Hancock Prospecting as the latest Aussie company to face challenges on their Ecuadorian mining concessions. Illegal miners who were evicted from Rinehart's concession at Buenos Aires in July, have been active on SolGold concessions in the Imbabura and Carchi provinces, while ongoing community resistance is thwarting SolGold's plans to develop mining operations in the country. Despite PR announcements to the contrary, SolGold is facing a wave of resistance from locals who want the company and its subsidiaries out of their parishes.
The biggest headache for SolGold in Ecuador centres around ambiguities over the legal status of many of its concessions (including at least half of its "priority projects") due to concerns over Indigenous land, Protected Forests and a constitutional requirement for consultation with local communities. Widespread resistance from local communities to industrial scale mining, and rampant illegal mining (often with ties to international criminal cartels), seem likely to further derail hopes the company has of launching a successful mining operation in the country.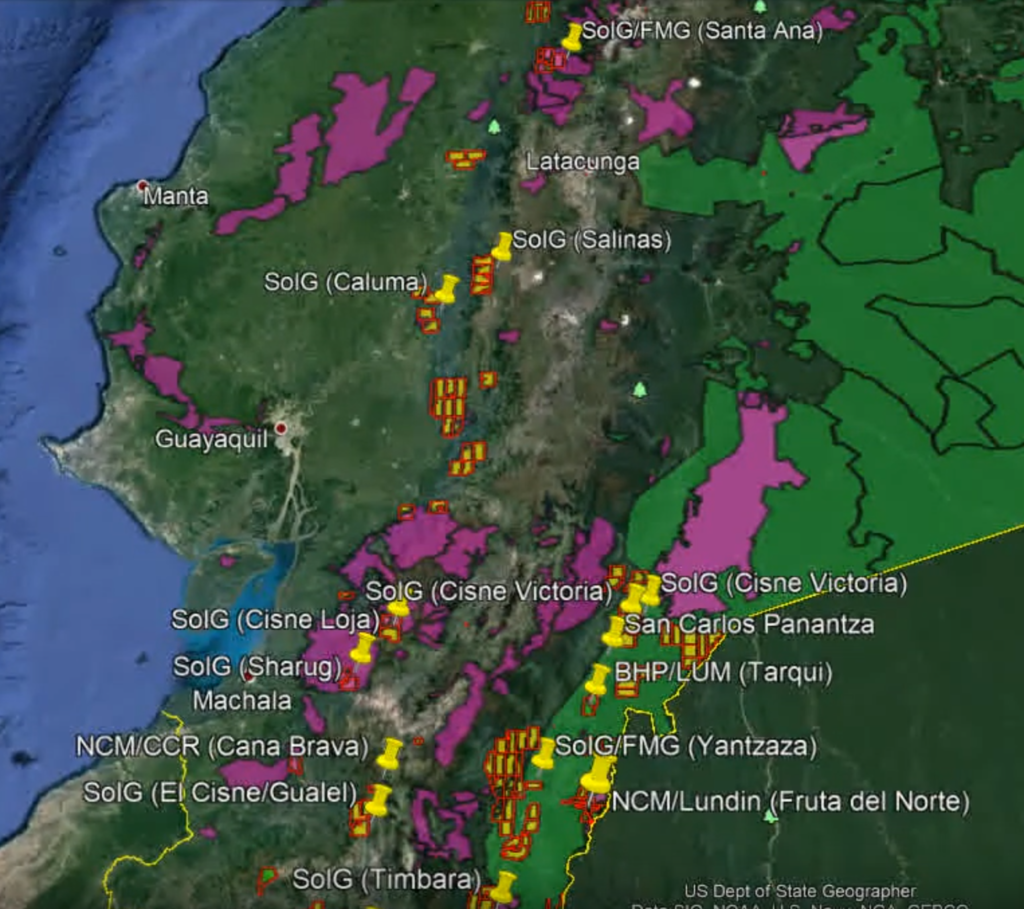 Community unrest
The province of Loja has been a hotbed of unrest for years. A successful court case against Chinese mining company Junefield shut down operations at their Rio Blanco mine in August 2018. In latest news, residents of Gualel who are surrounded by three SolGold concessions (El Cisne 2A/2B/2C), plan to radicalise protests if mining concessions are not withdrawn. They propose to march with residents from the Azuay, Loja, El Oro and Zamora Chinchipe provinces, stating on 30 July that if they are not heard they will go on a hunger strike.
More meetings are expected to take place in the first weeks of August in parishes and cantons in Zamora Chinchipe that are threatened by mining activity.
Popular consultations against mining
Numerous local parishes and cantons have been voting on mining across the country in recent months. These popular votes could form a significant legal challenge for the government and impede the development of mining projects across the country.
After a massive event involving 140 delegates from the provinces of Esmeraldas, Carchi, Imbabura and Sucumbíos, the Awá announced on 25 July the total rejection of mining in the territory. This was the fourth time they had passed a mandate to ban mining in their territory. SolGold holds 3 concessions that overlap Awá territory, while one is held by Hanrine Ecuadorian Exploration and Mining SA (HEEM) – a Rinehart-owned subsidiary.
"This resolution prohibits mining intervention in Awá territory and megaprojects that are not in line with the needs of our people. Our territory must be respected," said Jairo Cantincus, president of the Awá.
Further south, communities and social organizations in the Bolivar province announced they want SolGold subsidiary Valle Rico mining out of the region, with a declaration on 28 July 2019 declaring the parish free of mining and calling for a permanent mobilisation to defend its territory of the mining company Valle Rico resources.
On the 30th July, a protection action was presented in the Yantzaza canton in the Zamora Chinchipe province to reject mining in Alto Nangaritza, where SolGold holds six concessions. This was due to this area being part of the Cerro Plateado biological reserve and declared Protected Forest by ministerial agreement.
SolGold stocks took a battering in May after media reports of a potential referendum on mining in Imbabura, where Cascabel is located. The case by Wilmer Meneses Ibarra hinged around the lack of community consultation. However, the Constitutional Court ended up throwing it out because applicant failed to adhere to the procedural requirements for launching such a case. The core concerns of the community regarding consultation were not addressed.
This point was largely overlooked in international media, with Reuters claiming on July 31 that: "the Constitutional Court ruled against a request to require community consultations over the Cascabel mine". Such a ruling would potentially contravene SolGold's UN and OPEC obligations in which foreign companies must ensure the support of Indigenous and local groups before proceeding with such an enterprise.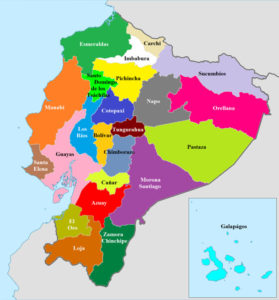 There have been at least five similar cases where the application was competently presented which proved successful, showing that courts do generally support communities' claims about the lack of consultation. Three landmark cases over the past year involving the communities of the Waorani, the A'I Cofán and the Rio Blanco mine in Cuenca were won because the government had not informed communities their territories were being opened up for oil or mineral exploitation.
Indigenous Kichwa Prefect Yaku Perez, an environmental and human rights lawyer, has been assisting parishes within the Azuay province to vote on mining in order to establish a proper consultation process.
Pérez presented a petition to the Constitutional Court to ban mining in the Azuay province on July 22 after his call for popular consultation in the Provincial Chamber of Azuay passed with a simple majority, but did not achieve the three-fourths majority that would allow it to be immediately executed. The Constitutional Court has twenty days to make a decision.
If the Constitutional Court agrees to a popular consultation, mining companies may be able to sue the Ecuadorian government before an international tribunal for reneging on its commitments. Such a case could put mining interests on hold for years.
Voters in the Girón canton in Azuay voted overwhelmingly to ban mining on March 24, with 86.79 per cent of the canton's 15,000 voters rejecting mining in the area. SolGold has two priority projects in Azuay: 'Cisne Loja' and 'Sharug'. Sharug entirely covers a Protected Forest, while Cisne Loja – comprised of two concessions – has approximately 90 per cent of one concession within a Protected Forest, while about 15 per cent of the other is within Protected Forest.
On top of this, there is near unanimous community opposition in the region. Illegal mining raids by the Ecuadorian Army in Azuay on the 31st of July were also only 30 kilometres away from these projects.
Illegal mining
Illegal mining is becoming the poster child for chaos for mining investors, with the Ecudorian Army being sent into the provinces of Carchi and Imbabura in July to attempt to secure the area after illegal miners were found prospecting there. SolGold holds nine concessions in the region under the subsidiary Carnegie Ridge Resources S.A.
This is in the wake of military evictions at the illegal mining operation at Buenos Aires, on concessions owned by Gina Rinehart in July, when more than 5000 local and international miners were evicted. Buenos Aires had up to 10,000 miners descend on the region at the height of its activity. Mining operations were purportedly run by various militia groups – with Colombian, Venezuelan and Mexican crime cartels vying for control.
These illegal miners are now exploring other prospective sites in the country using mining company reports to scour for likely locations.
Rainforest Action Group summary
The Rainforest Action Group is a research and advocacy group investigating Australian mining companies and their operations, particularly in Ecuador. Rainforest Action Group spokesperson Martin Daley says it is clear that despite government claims to the contrary, mining in Ecuador is not wanted.
"We are very concerned that Australian mining companies such as SolGold are continuing to push forward with plans to mine in the area, despite Indigenous and local communities clearly being resistant to these plans," Martin says.
"Copper is being greenwashed as a sustainable resource to fuel the growing electric car market, however it comes at a great cost to the Andean and Amazonian biospheres, which include some of the last virgin tropical rainforests in the world, and the world's most biodiverse ecosystems."
"Recent studies show that planting 3 trillion trees might be the most effective way of combatting climate change. We believe that protecting and extending the rich ecosystems that are already in place is a far more sustainable outcome, as is supporting local people to build economies that are not dependent on fossil fuels or mining. Global development just cannot continue at the rate it has been."
With thousands expected to join protests planned in Melbourne in October to oppose the International Mining and Resources Conference (IMARC) and protest government inaction on climate change, it is apparent that resistance to mining is growing globally.
SolGold holds 75 mineral concessions in Ecuador through four subsidiaries. Financial Times states that: "Year on year SolGold plc's net income fell 341.77% from a loss of 4.42m to a larger loss of 19.52m despite flat revenues".
A flyover of Ecuador here shows SolGold concessions, overlaps with Protected Forests and Indigenous territories, and community conflicts. Maps by Rainforest Action Group and Forest Network.
Contact details and  full media release with appendices here.
July 3, 2019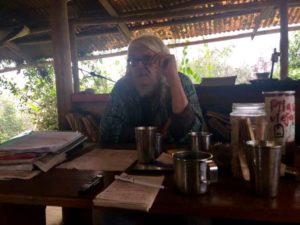 A series of legal cases based on constitutional law have created doubts over BHP's operations in Ecuador. These court cases highlight the risks for international mining companies who fail to familiarise themselves with their legal obligations under Ecuador's constitution.
Martin Daley, Rainforest Action Group (Melbourne) stated, "It is the fifth time in just over one year that judges in Ecuador have ruled against extractive industry in protected areas based on lack of community consultation."
A legal case¹ launched to protect the Los Cedros Reserve in the Intag region of Cotacachi province succeeded in stop work order against Ecuadorean state mining company work on the Rio Magdalena mining project.² BHP owns and has been exploring concessions (Sabaleta 1, 2 & 3) adjacent to the Rio Magdalena project, and the corner of BHP concession Sabaleta 3 also partially overlaps the Los Cedros Reserve. Read more about the Los Cedros win here.

"Last week's court judgement withdrawing registration of concessions was based on Enami's failure to adequately consult with local communities prior to commencement of the project as is required by the Ecuadorean constitution."
"All of BHP's concessions can be contested if BHP fails to obtain the free, prior and informed consent from local communities," continued Mr Daley.
Ecuador's Ministry of Environment and Water was ordered by the court to publish an apology³ to communities affected by the mining activities which stated, "Therefore, (the Ministry) offers public apologies for said violation and recognises its duty to respect and protect the rights of the environment and nature."
"In 2017, one of the plaintiffs from the recent case, the former mayor of Santa Ana de Cotacachi, Jomar Cevallos Moreno, wrote to BHP CEO Andrew Mackenzie requesting that BHP withdraw its concessions in the region", said Mr Daley.4
"BHP may find themselves involved in a similar case if they attempt to build a mine in the area."
For further media information email us at media@rainforestactiongroup.org or refer to press release to talk to a Rainforest Group representative.
2. The same team who won the Los Cedros case have just announced they will now be launching a similar case on the Llurimagua project at Junin which is another Enami project leas than 10 km from Los Cedros.
4. See letter from Jomar Cevallos Moreno to BHP CEO Andrew Mackenzie attached with this media release - in the Los Cedros case, Mr Moreno worked alongside an international team of biological scientists and Ecuadorean constitutional law specialists to ensure this globally significant region for biological diversity was not impacted by mining activities.
January 17, 2019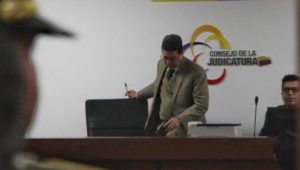 Latest court ruling casts renewed doubts on Ecuador's upholding of its constitutional process amid fresh protests of human rights violations at the country's largest open-pit copper mine, Mirador.
The Amazonian Social Action Community Cordillera del Cóndor Mirador (Cascomi) brought the case against the Ecuador Ministry of Mining, Ministry of the Environment, Ministry of the Interior, the Regulation and Mining Control Agency (ARCOM) and mining company Ecuacorriente SA in 2018, over concerns that the Chinese-owned Mirador mine did not meet the constitutional requirements for prior consultation, among other serious human rights violations, including three enforced displacements.
Judge Carlos Dávila denied the case for protection of the area on Tuesday 15 January, saying that the open-pit copper mine in the Cordillera del Cóndor did not affect the ancestral territory of the Amazonian community.
The case rested on the mishandling of three enforced evictions, as well as community concerns over violations of their right to prior, free and informed consultation in the execution of the Mirador mining project, as well as indigenous rights violations. Concerns about evictions were not addressed by the court.
Cascomi's vice-president Luis Sánchez said, "We will continue in the struggle until our rights are respected." Coscomi community plans to appeal the sentence once they have received the written notification of the ruling.
The ruling comes in the wake of two court wins by indigenous communities in 2018 where judges ruled that the constitutional rights of indigenous communities to free and informed consultation had either not been upheld, or had been directly violated. These included the nullification of 52 concessions on A'i Kofan land, and the permanent closure of another Chinese-owned mine – Rio Blanco in the buffer zone of the El Cajas National Park.
"Subsequent court cases on violations of free and informed consultation have been lost amid claims of judicial corruption. We are concerned that the Ecuadorian government is attempting to qualify ancestral and indigenous ownership so that it does not have to meet its constitutional mandates," says Liz Downes, member of the Melbourne Rainforest Action Group.
The judicial ruling is just the latest in the series of challenges to the Mirador mine, which has been under fire since 2014 over general mismanagement. Three forced evictions occurred in September and December 2015, and February 2016 were considered "the strongest and most violent that have occurred" according to Luis Sánchez. This statement was verified by the Ombudsman's Office.
These and previous evictions have resulted in huge community resistance and a spiralling of violent incidents in the area over recent years, including the murder in December 2014 of a Shuar indigenous leader known to be opposed to Mirador operations.  Relocated communities have demanded reparation for unsatisfactory living conditions under their constitutional right to decent housing and access to clean water.
Local people have had to continually prove their relationship and link to the land, with Judge Carlos Alfonso Dávila ordering an anthropological survey on 6 June, 2018 to verify the existence of an indigenous population in the Tundayme area before issuing the reopening of the mine. On 1 August, 2018, he ordered EcuaCorriente S.A. to temporarily refrain from carrying out intimidating actions and order any act of eviction against the inhabitants of the Cascomi indigenous community.
Ecuacorrientes has also failed to comply with approved environmental management plans since 2015, amounting to $US 77,000 in fines and repeated mine closures, according to the Ministry of the Environment. Of 31 observations, the company was still working to correct 14 in 2018, including unplanned opening of roads, the inadequate management and operation of the sedimentation pools, and the bad management of debris.  In December 2018, two workers died on a Mirador platform due to failures to implement adequate occupational health and safety protocols.
Mirador, in the heart of the Zamora Chinchipe district in Tundayme, Ecuador, is owned by Chinese companies Tongling Nonferrrous Investment Co. Ltd. (TNMC) and China Railway Construction Corporation Limited (CRCC), which make up the company Ecuacorrientes S.A. (ECSA).
If Coscomi wins the appeal, ramifications for investors and concession holders are likely to be significant. Fourteen percent of the country has been opened up to mining since 2017. Approximately 40% of the concessions are on indigenous (mainly Shuar) territory, and the rest are in globally significant biodiversity zones. This includes concessions held by Canadian Lundin Gold, Aussie heavy-weights BHP and Newcrest, as well as FMG, Hanrine (subsidiary of Hancock Prospecting) and SolGold, who announced in Jan 2019 expectations that their concessions, including Porvenir and Cascabel, could be the richest deposits of copper and gold ever discovered.
Revenue from mining is hoped to pay off Ecuador's massive international debts, mainly to China.  As of mid 2018, Ecuador owed China $US6.5 billion in debt – just over 6% of the country's total GDP.
January 4, 2019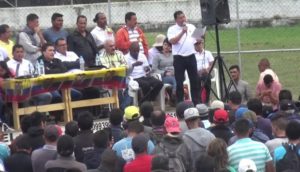 Hanrine Ecuadorian Exploration and Mining (HEEM), a subsidiary of Gina Rinehart's Hancock Prospecting has been involved in a political minefield in Ecuador for the past year.
In mid December 2018, hundreds of members of the Ecuadorian Military were trucked into the town of Buenos Aires, in the northern Imbabura Province in an attempt to curtail illegal mining activities. The military and police have been active in the region over the past year.
In late 2017, thousands of illegal miners descended into the region after the discovery of gold, with local reports stating up to 12,000 miners from as many as 10 countries rapidly mobilised into the area.
Much of the activity of the "informal" miners has centred around a community now known as El Triunfo (the Triumph), which is located 3km inside in a mining concession, controlled by HEEM.
The concession was granted by the Ecuadorian Government in early 2018, but local miners dispute the way the concession was processed and handled and are contesting its legality. Some are claiming that the concession process was flawed and that the concessions should have been granted to Ecuadorians, rather than an overseas Australian mining company.
There now appears to be a power struggle emerging between the miners on how to manage a situation which is increasingly becoming fraught. Negotiations between HEEM and the miners appear to be polarising mining groups against each other, only adding to the tensions.
There were two murders on the gold fields during the year, and hundreds of miners have been arrested. Prostitution and drug trafficking are becoming established in local towns. Truckloads of mining materials were also been confiscated. Other concerns regarding illegal mining can include: human trafficking, money laundering, arms trafficking, explosives trafficking, blackmail and influence peddling.
El Triunfo, is located only a few kilometres south of the highly anticipated Cascabel project, overseen by another Australian company - Solgold.
"In effect, any concession holders within the country could suffer outcome to that of El Triunfo," says member of the Rainforest Action Group, Anthony Amis. "If gold is discovered by prospectors, literally thousands of desperate miners could descend on the concession in a very short amount of time. The gold rush at El Triunfo was spread electronically and through social media in a matter of weeks".
"We are concerned how these situations will be managed by Australian companies, who control hundreds of thousands of hectares of land in mining concessions throughout Ecuador" Mr Amis said. "Many questions remain regarding how Hanrine have managed and dealt with the problems of thousands of informal miners inside their concession. Most of the informal miners are very poor and have come to the region to work, many are honest and desperate." Mr Amis concluded.
FOR MORE INFORMATION, CONTACT ANTHONY AMIS on 0425 841 564
December 17, 2018
Melbourne Rainforest Action Group (MRAG) today released a report detailing the activities of BHP Billiton in South America. The report highlights the company's poor environmental and social record in a number of locations.
Of particular concern is that BHP is now promoting itself as being environmentally responsible by promoting the use of its mining materials, particularly copper in electric cars.
"MRAG has particular concerns about BHP's intended entry into Ecuador, a country with minimal experiences in dealing with mining companies. BHP has recently purchased a stake in exploration company Solgold who hope to develop the Cascabel mine in the north of Ecuador. The copper at Cascabel is being promoted under the guise that it will be required for electric cars, yet the bulk of world's copper demand is predicted to go into energy infrastructure, not electric cars" said spokesperson Anthony Amis.
BHP has also been alarming people because of their exploration activities in the Intag Valley Ecuador, a region where the company has mining concessions.
MRAG has documented a litany of environmental problems caused by BHP operations across South America, including the infamous 2015 Samarco mine disaster in Brazil which killed 19 people.
Perhaps of even greater concern is BHP's history in Colombia, particularly at its coal mine at Cerrejon and its divested Cerro Matoso nickel mine. Both operations have had devastating effects on people living the near mine sites. Horrific violence has been inflicted against community members in both regions, with 30 leaders have killed near Cerro Matoso. How has BHP managed to operate in these locations with little difficulty when armed groups operate in these regions?
The Colombian problem also now appears to be spilling over into Ecuador. A director of the Australian mining company operating on the border, Rio Dorado was quoted in the Sydney Morning Herald on December 7, "well, if we have anybody enter the site what we should be doing is shooting and asking questions after the event,"
"The Colombian/Ecuadorian border is classified by the Australian Department of Foreign Affairs as a Do Not Travel Zone due to the very high level of risk, yet the Cascabel mine site is only 10km away from this zone, and anything transported from the mine will have to travel 30-40km through the no go zone. Why would you want to build a mine in or near this region, unless you were sure that you could pay for protection your asset" Mr Amis concluded.
FOR MORE INFORMATION, CONTACT ANTHONY AMIS on 0425 841 564 or Liz Downes 0425 308 041
A Copy of the report can be found at the following link
September 10, 2018
News reports on the 5th of September that mining company BHP has purchased a 6.1% stake in exploration company Solgold for $35m have raised concerns that another mining disaster in northern Ecuador could be possible if Solgold's Cascabel gold/copper mine is eventually constructed. Environmentalists fear that a repeat of the BHP's /Samarco tailings dam collapse in November 2015 (Brazils worst environmental disaster) could be repeated in Ecuador. BHP appears to be in a tussle with Australian miner Newcrest over eventual control of Cascabel.
"Ecuador is a known earthquake hotspot, with Cascabel just west of a cluster of known quakes on the western side of the Andes. In the rush to get a mine and tailings dam built, shortcuts could be taken?" said MRAG spokesperson Anthony Amis.  "If a tailings dam is not constructed, tailings could be dumped directly into rivers or even piped into the ocean, a practice which is used in another geologically unstable region, Papua New Guinea where both Newcrest and BHP are involved."
Even in supposedly developed countries such as Australia, tailings dam walls can fail. Newcrest's Cadia Mine in New South Wales was shut down 3 months in 2017 due to an earthquake and the tailings dam wall at Cadia failed in March 2018. Earthquakes recorded near Cascabel exploration area average higher magnitudes that than those recorded at Cadia. Potential pollution from any problems at Cascabel will mainly impact on the Rio Mira river which stretches through Ecuador and into Colombia. Colombians have already feeling the full brunt of BHP's activities with communites near Cerro Matoso ferronickel mine suffering health problems for many years. Another potential issue is that Solgold will have to consult with impacted communities, which is required by the Ecuadorian constitution. In June 2018, an Ecuadorean Court shut down mining by a Chinese company Junefield/Ecuagoldmining South America for failure to consult with communities.
Solgold have a history of discovering resources which later were sold off to leave others to deal with environmental consequences. Coal seam gas in Surat Basin Queensland and the opening up of coal mining in the Queensland's Galilee Basin are two examples.
MRAG also have concerns regarding Newcrest's involvement in the Fruta del Norte gold mine in the south east of Ecuador, located near the border with Peru.
FOR MORE INFORMATION, CONTACT ANTHONY AMIS on 0425 841 564
Senator Lee Rhiannon questions AUSTRADE on the involvement of Australian companies in mining protected rainforest reserves and indigenous reserves in Ecuador.