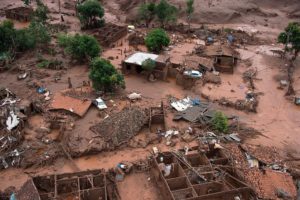 News reports on the 5th of September that mining company BHP has purchased a 6.1% stake in exploration company Solgold for $35m have raised concerns that another mining disaster in northern Ecuador could be possible if Solgold's Cascabel gold/copper mine is eventually constructed. Environmentalists fear that a repeat of the BHP's /Samarco tailings dam collapse in November 2015 (Brazils worst environmental disaster) could be repeated in Ecuador. BHP appears to be in a tussle with Australian miner Newcrest over eventual control of Cascabel.
"Ecuador is a known earthquake hotspot, with Cascabel just west of a cluster of known quakes on the western side of the Andes. In the rush to get a mine and tailings dam built, shortcuts could be taken?" said MRAG spokesperson Anthony Amis.  "If a tailings dam is not constructed, tailings could be dumped directly into rivers or even piped into the ocean, a practice which is used in another geologically unstable region, Papua New Guinea where both Newcrest and BHP are involved."
Even in supposedly developed countries such as Australia, tailings dam walls can fail. Newcrest's Cadia Mine in New South Wales was shut down 3 months in 2017 due to an earthquake and the tailings dam wall at Cadia failed in March 2018. Earthquakes recorded near Cascabel exploration area average higher magnitudes that than those recorded at Cadia. Potential pollution from any problems at Cascabel will mainly impact on the Rio Mira river which stretches through Ecuador and into Colombia. Colombians have already feeling the full brunt of BHP's activities with communites near Cerro Matoso ferronickel mine suffering health problems for many years. Another potential issue is that Solgold will have to consult with impacted communities, which is required by the Ecuadorian constitution. In June 2018, an Ecuadorean Court shut down mining by a Chinese company Junefield/Ecuagoldmining South America for failure to consult with communities.
Solgold have a history of discovering resources which later were sold off to leave others to deal with environmental consequences. Coal seam gas in Surat Basin Queensland and the opening up of coal mining in the Queensland's Galilee Basin are two examples.
MRAG also have concerns regarding Newcrest's involvement in the Fruta del Norte gold mine in the south east of Ecuador, located near the border with Peru.
FOR MORE INFORMATION, CONTACT ANTHONY AMIS on 0425 841 564