A series of legal cases based on constitutional law have created doubts over BHP's operations in Ecuador. These court cases highlight the risks for international mining companies who fail to familiarise themselves with their legal obligations under Ecuador's constitution.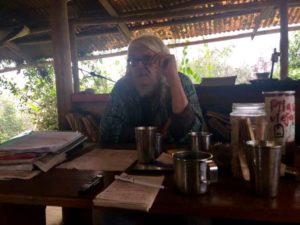 Martin Daley, Rainforest Action Group (Melbourne) stated, "It is the fifth time in just over one year that judges in Ecuador have ruled against extractive industry in protected areas based on lack of community consultation."
A legal case¹ launched to protect the Los Cedros Reserve in the Intag region of Cotacachi province succeeded in stop work order against Ecuadorean state mining company work on the Rio Magdalena mining project.² BHP owns and has been exploring concessions (Sabaleta 1, 2 & 3) adjacent to the Rio Magdalena project, and the corner of BHP concession Sabaleta 3 also partially overlaps the Los Cedros Reserve. Read more about the Los Cedros win here.

"Last week's court judgement withdrawing registration of concessions was based on Enami's failure to adequately consult with local communities prior to commencement of the project as is required by the Ecuadorean constitution."
"All of BHP's concessions can be contested if BHP fails to obtain the free, prior and informed consent from local communities," continued Mr Daley.
Ecuador's Ministry of Environment and Water was ordered by the court to publish an apology³ to communities affected by the mining activities which stated, "Therefore, (the Ministry) offers public apologies for said violation and recognises its duty to respect and protect the rights of the environment and nature."
"In 2017, one of the plaintiffs from the recent case, the former mayor of Santa Ana de Cotacachi, Jomar Cevallos Moreno, wrote to BHP CEO Andrew Mackenzie requesting that BHP withdraw its concessions in the region", said Mr Daley.4
"BHP may find themselves involved in a similar case if they attempt to build a mine in the area."
For further media information email us at media@rainforestactiongroup.org or refer to press release to talk to a Rainforest Group representative.
2. The same team who won the Los Cedros case have just announced they will now be launching a similar case on the Llurimagua project at Junin which is another Enami project leas than 10 km from Los Cedros.
4. See letter from Jomar Cevallos Moreno to BHP CEO Andrew Mackenzie attached with this media release - in the Los Cedros case, Mr Moreno worked alongside an international team of biological scientists and Ecuadorean constitutional law specialists to ensure this globally significant region for biological diversity was not impacted by mining activities.