September 20, 2019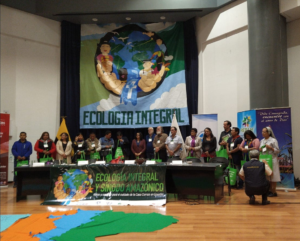 On Sept 14th this year, as the disastrous fires in the Amazon Rainforest continued to hit international headlines, Ecuador's new Holistic Ecology and Panamazon Synod released a bulletin entitled 'Our Mother Earth is Dying.'
This came as a result of a congress of Catholic bishops in Quito, and will serve as a key document informing the much more important gathering of bishops next month at the Vatican, which will announce a new direction for the Catholic Church, towards a 'holistic ecology' rooted in respect for 'our common home'.
The document, inspired by the teachings of the Gospel and on the encyclical Laudato Sí, declares:
"1. Our commitment to continue marching in the struggle and transformation as builders of justice, prophecy, and defence of life and diversity.
2. Our commitment to live on the planet, respect and value it, especially those large, threatened ecosystems: oceans, rivers, forests, highlands, glaciers.
3. Our commitment to insist that authorities of the Amazon basin stop the ecocide, genocide, and ethnocide resulting from the expansion of the agriculture/livestock frontier, extractive activities, and megaprojects.
4. We demand that governments declare a moratorium on all mining concessions and hydroelectric projects.
5. Our commitment, as members of the Catholic Church, is to report to local and international judicial entities violations of Human Rights and the rights of First Peoples, of uncontacted peoples, of campesinos, and of the rights of nature.
6. Our commitment to act, together with collectives and organizations, to promote and defend the Human Rights or all vulnerable groups.
7. Our commitment to continue along this road, listening to and building, with other civil society actors, collectives, and especially with young people, actions in defence of, sensitivity to, positive impact on, and commitment to defending out Common Home, turning our processes of resistance and struggle into ways of defending the rights of life, nature, and peoples.
8. Our commitment to accept and report that the destruction of nature is a capital social sin.
9. Our commitment for an alternative that promotes life, that respects nature at the personal, community, and institutional levels.
10. Our commitment, as academics, to academic proposals that recognize the value of the cultural heritage and the resignification of our major activities of teaching-training, researching, and connecting in order that these activities be oriented to the valuing, defense, and promotion of the care of our Common House.
11. Our commitment to incorporating into the courses of study at all educational levels and in training programs Holistic Ecology based on the Laudato Sí encyclical.
12. Our commitment to continue to recognize, in the dialogue among the fields of knowledge, ancestral cosmovisions and visions, the Kawsak Sacha, the Living Forest.
Ecuador is a country comprising 14 different indigenous nations, which form nearly a third of the total population. The combined political and cultural influence of indigenous peoples helped create, in 2008, one of the world's most progressive constitutions. Ecuador's constitution provides the basis for a law and policy framework called 'Buen Vivir' or ' Living Well', which guarantees the rights of not only all humans, but also nature, to exist and thrive in a state of wellbeing.
In spite of this, a crippling international debt and austerities have forced Ecuador to allow unprecedented amounts of land to be sold to transnational companies for development of oil, hydroelectricity and mining projects. These concessions cover the world's most biodiverse forests, Amazon headwaters, and indigenous lands. Most recently, in 2017, almost 2 million hectares of land was sold for copper and gold mining.
"Almost universally, people living within concessions have not given consent for industrial development in or near their communities. In several cases, communities have been forcibly displaced to make way for companies, and there have been many documented human and nature rights violations," says Liz Downes, member of the Rainforest Action Group.
"The Church's strong stance demanding a moratorium on mining and hydroelectricity comes not only as a result of increasing dissent from communities, calling for their rights to be respected, but because of the severe risks of these projects. Ecuador is highly geologically unstable, has the greatest biodiversity and endemism of species in the world, and supplies much of the water for the rivers which run through the Amazon Basin," says Liz Downes.
Other churches across Latin America have in recent weeks called for immediate and urgent action with respect to the Amazon fires, with the Pope himself declaring the situation as an emergency. The movement is not new, though: in 2014 a Pan-Amazonian Network was publicly launched in Lima, Peru in conjunction with the Climate Summit. It apologised for colonial atrocities in the Amazon and called for a 'church with an Amazonian face' to represent the rights of people and ecosystems, saying: "The exploitation of the Amazon through mining, the expansion of farming and ranching, road construction, hydroelectric dams and timber companies demand that the church take a more prophetic stance".