CLASHES BETWEEN COMMUNITY MEMBERS AND SECURITY FORCES OVER MINES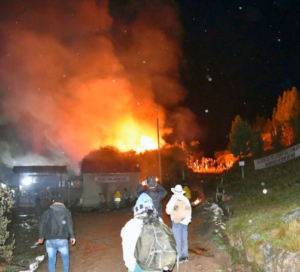 Heated clashes occurred between community members and security forces at Ecuagold's Chinese owned Río Blanco mine this past week, with several arrests being made and reports that 3 leaders of the Ecuarunari, the national confederation of the Kichwa people, were abducted by mine workers. This mine is one of Ecuador's five strategic mining projects and is currently in the exploitation phase, and is located in the western area of ​​Azuay. The mine has proven reserves of 2.1 million tons of mineralized rock, and is expected to obtain 605,011 ounces of gold and 4.3 million ounces of silver. The useful life of the mine will only be 11 years.
The governor of the province of Azuay, Xavier Enderica, said people outside of the community were responsible for the violence.
As of May 16, 2018, approximately

42

Protected Forest Reserves are threatened by mining concessions.
Members of The Women's Front in Defense of Mother Earth protest against the Rio Blanco mine.
Local community members dug ditches to restrict access to the Rio Blanco mine.
Locals (led by seven indigenous communities and campesino groups) alongside conservationists, are concerned about the impacts of mining on the water sources of the area. They have rejected a request for formal talks and insist this project be permanently stopped, having opposed the mine for the last 16 years. In addition, the community members who were part of the protests issued a statement. There, they asked the citizens of the province and the country to join in the defense of water and demanded "the immediate reversion of mining concessions in Rio Blanco and the entire national territory".
Growing militarisation - 200 policemen and 100 soldiers guard the Chinese owned Rio Blanco mining camp following protests
Militarised mining in Papua - This is what an "investor-friendly mining regime" actually looks like.