Carlos De Miguel III, the General Manager of Hanrine Ecuadorian Excploration and Mining SA, a subsidiary of Gina Rinehart's Hancock Prospecting, was apprehended by police for an alleged illegal weapons cache. Mr De Miguel was found with several pistols, rifles, and more than 9,500 rounds of ammunition.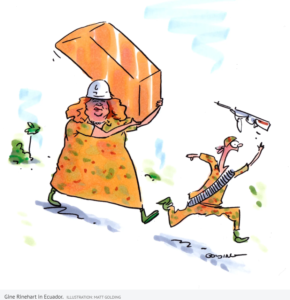 A spokesman for Hancock in Australia said in a statement that Carlos De Miguel held "the correct permits for these weapons which are approved by the Ecuadorian Ministry of Defence. The spokesperson went on to note "the safety of employees at Hanrine is very important to Hancock Prospecting Pty Ltd (HPPL), and executives of HPPL visit the project from time to time, their safety while visiting Ecuador is also important."

The discovery of the weapons cache raises one obvious question; why is Ecuador considered so unsafe that Hanrine executives need to possess such advanced weaponry and vast quantities of ammunition?
To understand the sovereign risks of doing business in Ecuador, we need to touch upon the history of Hanrine's mining concessions, and the clouds of controversy hanging over their purchase; along with the dangers of operating so close to the unstable Colombian border region.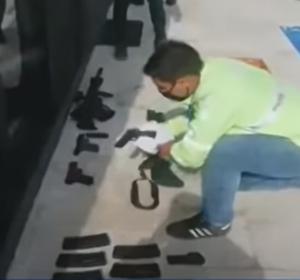 Hanrine obtained six exploratory concessions (totaling 27032 ha) located just south of Solgold-Cornerstone's Cascabel concession, in January and March 2018. According to Ecuadorian media reports, Hanrine was controversially awarded these mining concessions after the government had previously pledged to suspend the mining cadastre and cancel more than 2000 mining concessions.
On Dec 11th, 2017, Ecuadorian president Lenin Moreno had announced his mining policy u-turn following an uprising by indigenous groups and mass protests lead by the Prefect of the province of Azuay, Yaku Perez; along with the Confederation of Indigenous Nationalities of Ecuador (CONAIE).
Indigenous groups led a long march from the province of Zamora to the capital Quito, in defense of water catchments and against large-scale extractive industries. The protests brought the capital to a stand still and led to the resignation of former Minister of Mining, Javier Cordova, who had failed to halt the allocation of mining concessions during the contested period.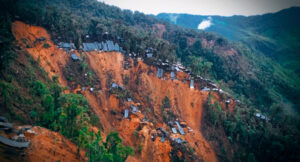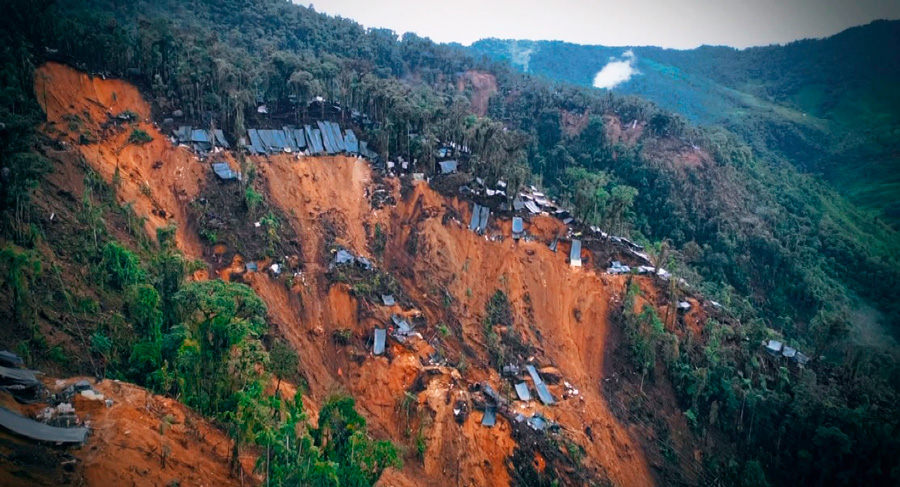 The nationwide protests eventually led to a popular referendum in February 2018 in which Ecuadorians approved, among other proposals, to prohibit metal mining in protected areas, intangible zones and urban centers. President Moreno even publicly declared that mining had left a hundred rivers "severely" contaminated in the country.
Moreover, concerns have also been raised by the Ecuadorian press about the process by which Hanrine obtained these 6 disputed concessions in just a few short weeks rather than the 8 months or more it usually takes to secure mining titles. On 27 September, 2018, the assemblyman for Imbabura, Marcelo Simbaña, formalised a complaint before the General Comptroller of the State regarding inconsistencies in awarding the mining concessions to Hanrine.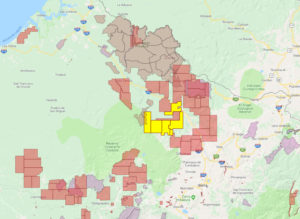 In February 2018, just a month after awarding Hanrine the disputed concessions, a state of emergency in Buenos Aires is declared. Police and military are called in to begin confiscating hundreds of tons of mining material and clear out the illegal 'wildcat' miners and heavily armed rebel groups that had prevented Hanrine workers from accessing their concession areas.
The Hanrine concessions sit dangerously close to the Colombian border, an area renowned for para-military drug trafficking, corruption and money laundering. The area has been subject to significant unrest, with thousands of illegal miners, a number of deaths (including a 14-year-old child), and complaints of organised crime, drug trafficking and prostitution rings running alongside the illegal mining. After numerous arrests for illegal mining, the artisanal miners formed The National Union of Miners in Ecuador at El Triunfo (August 2018) to argue for the legalisation of their small scale mining operations on Hanrine concessions.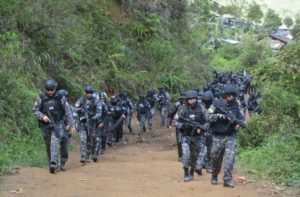 In July 2019, a massive military operation is organised to put an end to the illegal mining and organised crime and violence it attracted, with only mixed success. It's quite clear Hancock Prospecting's subsidiary is operating in an incredibly dangerous and complex business environment, facing strong opposition from small-scale miners, indigenous groups and environmental NGOs that are united in their opposition to large-scale mining in the region.
In a surprising twist, Hanrine is also facing an increasingly hostile government. Tension between the Ecuadorian Government and Hanrine is now building. According to the complainant, the arrest of Carlos De Miguel is a premeditated attack to block his activities as manager of the company he represents "due to clear and evident private interests of the minister  [Maria Paula Romo], who in due course will have to explain them to the country."
Is a legal challenge between embattled Hanrine and the Ecuadorian Government in the wind? 
Stay tuned for future updates on this high-stakes legal battle currently underway in Ecuador.
Full English-language articles here and here and Spanish-language sources here and here