Hancock Prospecting Pty Ltd. (HPPL) put in an offer in 2017 to buy ENAMI stake in the Llurimagua project in northern Ecuador, according to Via Minera.
Full article here (in Spanish) with explosive commentary on situation at Llurimagua as well as information on issues with ENAMI/Codelco partnership, the collapse of copper, and interest from both BHP and Chinese mining companies in the project. Below is an excerpt from the Via Minera article.

Garry Korte, CEO of Hancock Prospecting Pty Ltd., HPPL, sent a letter on October 16, 2017 to then-Enami CEO Raúl Brito, saying that he wanted to buy the Ecuadorian state-owned company's stake in the Llurimagua project. HPPL has a long history of working with governments to establish and grow mining industries, exploring and carrying out mining projects through development and operation, the letter said in its opening lines.
At some point the local press circulated a story that Hancock wanted to partner with Enami to make the Llurimagua project a reality, but the truth differs. Hancock wanted to get Enami out of Llurimagua, buy their 51%, and ally  with Codelco. It is also not true that Rinehart was willing to pay US$400 million for Enami's share of the project.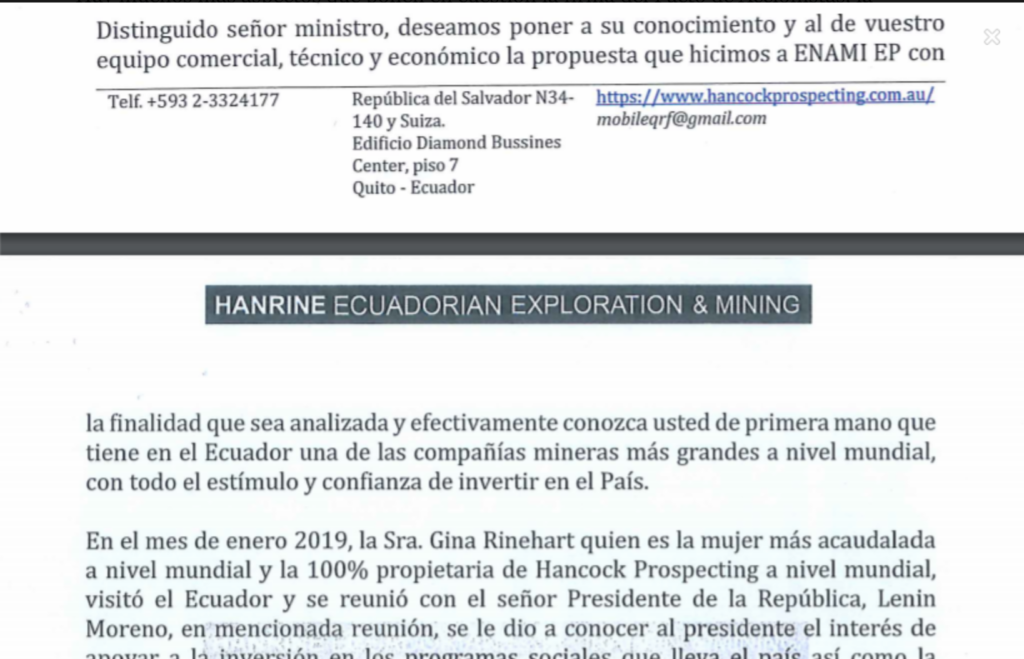 That is clearly written in the documents. Hancock boasted a lot of financial capacity and offered to pay not only what they considered Llurimagua to cost, but to buy, almost in cash, all the concessions that the Ecuadorian state mining company had at that time.
"Although HPPL does not yet have the initial exploration data on which to accurately base a bid, HPPL is pleased to make this formal bid to acquire all (Enami's) interests under a multi-tiered compensation structure, starting with a baseline of US$102 million based on the results of drilling completed to date, plus additional payments if increased resources are demonstrated."
In other words, HPPL what it offered in 2017 and continues to offer, as we will see later, is a first payment of $102 million.
In addition, the letter indicates the willingness of HPPL to allocate US$5 million annually in each of the six Enami projects, up to a total of $30 million; and to pay a royalty of 2% of the net profit after taxes. It also explained that the basic offer for 51% of Enami, of $102 million, has been formulated on the basis that Llurimagua contains 10 million metric tons.
In the first letter to the president of Enami, HPPL indicated that in the event of an agreement, the purchase would be made by its Ecuadorian subsidiary, Hanrine Ecuadorian Exploration Mining. Hanrine insisted on the purchase again in March last year. President Lenin Moreno was addressed directly and, simultaneously, to other authorities, in almost the same tone, that is, boasting of its economic strength. The proposal, pointed out by experienced people, if received, jeopardizes the country's credibility as a partner of foreign companies to which it is attracted by ensuring legal stability.
It is not just a matter of prestige as they generate discomfort, the fact is that Codelco has achieved the signing of Enami and could demand compliance with the agreements, here or in some international court.
Read the full article here.