Tensions are escalating quickly as BHP aggressively pushes into communities in the farming and rainforest region of Intag, Ecuador, in their efforts to begin gold and copper explorations on schedule.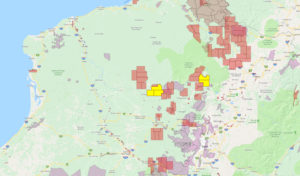 BHP owns two concessions (Santa Teresa 1 and 2) in this region of northwestern Ecuador. These concessions were granted by the Ecuadorian Government with zero public consultation in 2017, along with others covering nearly 2 million hectares. A total of 129 concessions across Ecuador are owned by Australian companies.
BHP is currently asserting to its shareholders that "explorations are in very early, low impact stages in Ecuador" and "we are following all relevant laws and due diligence with regard to community consultation and environmental risk." (statements taken verbatim from BHP's AGM in Sydney, November 2019).
Below is a timeline of events and community resistance since October 2019, based on extensive communication with, and reports from, residents living within the Santa Teresa concessions.
Oct 2019: A letter from Benjamin Mace, BHP's Chief of Operations in Ecuador, was delivered at a closed door meeting in the small community of Puranquí. Most of the community, including the mayor, were not invited to this meeting – in fact, only known pro-mining community residents even knew about it. The letter indicated that a water license had been granted by the State Secretariat of Water (SENAGUA) for the imminent commencement of explorations in the area. This licence, under Ecuadorian law, requires no environmental impact statement.
23 Nov 2019: A massive regional assembly of 1500 people in Apuela unanimously rejected mining. Read more...
15 Dec: BHP held a meeting in Cazarpamba community. Some people from surrounding affected areas attended. On seeing the visitors, the BHP representatives promptly packed up and left. Read more here and here.
17 Dec: BHP representatives tried to do the same thing in the neighbouring community of Irubí, but the residents wouldn't let them leave. So they were forced to present their spiels. They offered ten jobs to residents, without specifying details; they also offered support from an apocryphal "foundation" which they wouldn't name and which still is yet to be identified. Finally, they left bags of 'Christmas presents' for three pro-mining residents and their families.
27 Dec: BHP-affected communities travelled to nearby Junín, the site of a highly controversial and contested gold mining project owned by Codelco and state company ENAMI. They toured the site and witnessed evidence of environmental destruction caused by exploration and construction stages of the mine.
11 Jan 2020: Representatives from six communities in BHP's Santa Teresa 2 concession met up in Cazarpamba to support residents who, fed up with unauthorised night-time access by BHP employees, had installed a chain across the road. At the meeting, BHP was unequivocally denounced: "¿Cuantas veces no BHP?"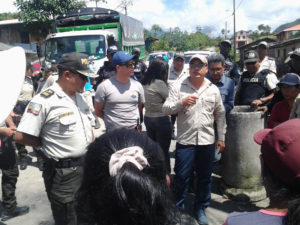 14 Jan: Cazarpamba residents prevented the entry of three BHP employees who arrived unannounced in the company of 30 police. Later residents heard that police were waiting for reinforcements to push through to Irubí. More roadblocks were subsequently set up at Irubí, with support from surrounding communities, and company representatives and police were again repelled. Read more...
16 Jan: A combined community forum was held for Apuela and Cazarpamba. Again, there was unanimous rejection of BHP by those attending (over a hundred).
18 Jan: A regional assembly was held for all six mining impacted communities in Santa Teresa 2 at Cazarpamba. 320 people attended. Again, there was unanimous rejection of mining. Local environmental organisation DECOIN's report with photos is here.
20-25 Jan:  the Ecuadorian Vice Minister of Mines invited the Apuela Parish government council to Quito to "discuss" the mining situation on the ground. The invitation included several council persons, but excluded the vice president, who is staunchly anti-mining. Only the president of the Parish government showed up to the meeting.
26 Jan: The Apuela president met with the president of Cazarpamba and told him that the Vice Minister of Mines had threatened "to take them both to court for opposing the development of the nation", based on obstructing BHP's plans to begin exploration.
More developments are expected in coming weeks as the Vice Minister has made it clear that he plans to meet with all community presidents in the area. Meanwhile residents have vowed to continue blockading and preventing company representatives from entering.
The full list of resolutions made at the assembly at Cazarpamba, 18th January, is now available for distribution to any interested parties who wish to support Intag residents and local organisations with regard to human rights and environmental issues posed by BHP's actions. See below for the Spanish version (English will be available shortly).
RESOLUCIONES DE LA ASAMBLEA DE COMUNIDADES AFECTADAS POR LAS CONCESIONES MINERAS REALIZADA EL SÁBADO 18 DE ENERO EN LA COMUNA CAZARPAMBA, PARROQUIA APUELA
Cientos de Comuneros y Comuneras de las Comunidades Afectadas por las Concesiones Mineras ilegalmente entregadas por el Gobierno Nacional del Ecuador a la Empresa BHP Billiton – Cerro Quebrado, de las parroquias Cuellaje, Plaza Gutiérrez y Apuela, reunidos en Asamblea el sábado 18 de enero de 2020 en la Comuna de Cazarpamba, considerando los atropellos, amedrentamiento a la comunidad e intento de ingreso por la fuerza con la complicidad de la Policía Nacional, y ante el inminente riesgo de afectación a las fuentes de agua de consumo humano y la alteración de la paz social y los sistemas de producción y de vida familiar comunitaria, en forma legal y legítima, ejerciendo su Derecho a la Resistencia, consagrado en el Artículo 98 de la Constitución Política, Códigos y Leyes Vigentes del Ecuador, tomamos las siguientes Resoluciones, para ser entregadas a las autoridades e instituciones competentes, así como a los medios de comunicación locales, provinciales y nacionales:
Solicitarle al Municipio de Cotacachi aplicar las ordenanzas vigentes que protegen el agua, bosques y comunidad; incluyendo la Ordenanza que declara a Cotacachi Cantón Ecológico; la Ordenanza del Área de Conservación y Uso Sostenible, Manduriaco - Intag; La Ordenanza de ríos y riberas; y que asuma su competencia de uso y regulación del suelo en todo el Cantón para prohibir la minería metálica.
Apoyar incondicionalmente las medidas de hecho adoptadas por las comunidades afectadas por las concesiones mineras, y responsabilizar de cualquier consecuencia negativa a los Directivos de las empresas mineras y a las Autoridades que permitan o faciliten el ingreso a nuestras comunidades.
Crear y fortalecer el Sistema Intercomunitario de Vigilancia y Coordinación Inmediata para evitar el ingreso de las Empresas Mineras a las ilegales concesiones o para el Desalojo de sus Campamentos si fuera necesario.
Solicitar y exigir mediante oficio, un Pronunciamiento y Resolución Oficial de las Autoridades, Parroquiales, Cantonales y Provinciales sobre la Minería Metálica en todas sus fases dentro de sus Jurisdicciones; para lo cual se invitará al Consejo del Gobierno Provincial y al Concejo Municipal en pleno, para que se trasladen a la Zona de Íntag y Sesionen formalmente en el mes de febrero de 2020, a efectos de que en el orden del día o agendas se trate, se debata y se concrete sus pronunciamientos sobre los temas ambientales y mineros.
De ser necesario, se promoverá y organizará una marcha masiva al Municipio de Cotacachi, Prefectura Provincial y Gobernación de Imbabura, con el apoyo y solidaridad de las organizaciones sociales de Cotacachi, Imbabura y el País.
Gestionar e Impulsar de manera indispensable un Programa de Comunicación Radial y Educación Ambiental sobre los impactos de la minería en las Comunidades afectadas.
Fortalecer, ampliar y complementar la Organización Zonal de Íntag para la defensa íntegra de todo el territorio frente a la amenaza minera, para presionar el abandono de ENAMI, CODELCO, BHP, Cornerstone y otras empresas, incluyendo el desalojo si fuera necesario.
Exigir a todos los niveles de gobierno (nacional, provincial, cantonal y parroquial) la priorización de la inversión y desarrollo de actividades agropecuarias, turísticas y emprendimientos productivos sustentables.
Exigir al Gobierno Nacional la revocatoria de las concesiones mineras en la Zona de Íntag, en razón de haber sido entregadas incumpliendo la Consulta Ambiental de las comunidades, derecho consagrado en el Artículo 398 de la Constitución.
Respaldar la representatividad de la Vocera actual de la Asamblea de Unidad Cantonal dentro del Concejo Municipal, con el legal y legítimo derecho a voz y voto.
Proponer al Municipio de Santa Ana de Cotacachi, que en cumplimiento de su responsabilidad de Gobierno Autónomo del Territorio, realice la consulta popular a nivel Cantonal, para que el pueblo ratifique la posición antiminera tomada en el cantón desde 1996 a través de sus asambleas parroquiales, zonales y cantonales .
Exigir la eliminación de cualquier de cualquier forma de extractivismo minero metálico en los Planes de Desarrollo y Ordenamiento Territorial (PDOT) y PUGS Provincial, Cantonal y Parroquiales, en atención a innumerables resoluciones parroquiales, zonales y provinciales de rechazo rotundo a la minería y en concordancia con la Ordenanza de Cantón Ecológico, Ordenanza de Riveras, Ordenanza del Área de Conservación y Uso Sustentable Municipal – Íntag Toisán y otros cuerpos legales y Resoluciones Municipales.
Impulsar la elaboración y aprobación de una Ordenanza Municipal Específica para declarar al cantón Santa Ana de Cotacachi Libre de Minería Metálica.
Ratificar el compromiso personal, familiar y comunitario de cuidar y conservar EL AGUA FUENTE DE VIDA, priorizando su uso para el consumo humano y prohibiendo su utilización en procesos o actividades mineras.
Exigir a la Gobernación y diferentes entes nacionales que desistan de utilizar la fuerza pública como guardaespaldas de las empresas mineras.
Crear una organización zonal para de manera más directa enfrentar y buscar alternativas a la minería metálica